Ballet Creole 30+
Naningo Calling
Join Us in Celebrating 30+ Years of Diversity in Harmony!
Ballet Creole presents 'Naningo Calling'
We call on the guardians to bring people together, as Ballet Creole commemorates 30+ years of legacy and longevity. This celebratory production includes four works from the Company's repertoire:
Congo Laye – Arsenio Andrade, Breaking Out – Patrick Parson, Woke – Patrick Parson and Dancing Spirits
Experience Ballet Creole's unique aesthetic embodying traditional and contemporary – Diversity in Harmony since 1990.
VENUE:
Sandra Faire & Ivan Fecan Theatre
Accolade East, York University
View in GoogleMaps
TICKET PRICES (ON SALE SOON!):
General:  $ 25.00
Students: $ 15.00
Senior:   $ 15.00
Livestream: $10
DATES/TIMES:
In-Theatre:
Friday, October 27th, 2023, 11am – Preview Matinee (see info below)
Friday, October 27th, 2023, 7:30pm – Opening Night
Saturday, October 28th, 2023, 7:30pm
Sunday, October 29th, 2023, 2pm
Livestream
Saturday, October 28th, 2023, 7:30pm
Preview Matinee
Friday, October 27th, 2023
11am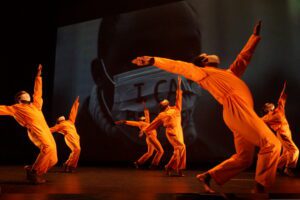 Get a taste of Ballet Creole's 30+ anniversary production! In this special event, we preview two of the four ballets included in our full show. Tailored to school groups, a post-show Q&A session invites interaction between the audience and our artists, sharing experiences and perspectives.
* Bookings available to school groups and tickets open to the public. 
Woke
Love, Entanglement, Healing & Restorative Justice
A powerful new choreography inspired by injustice portrayed in recent world events, Choreographer & Artistic Director Patrick Parson uses spoken word, dance, and rousing video imagery to bring forth a piece that evokes awareness, reflection, empowerment, and hope. Ballet Creole, whose past works have touched on difficult themes and events through a culturally diverse expression, utilizes strong images, physicality, and gripping poetic words to evoke heartfelt messages of truth, inspiration and unity. Together we rise. Together we are strong.
Disclaimer – Some of the images used in this production depict racially motivated violence, and as such may be disturbing to some audiences. 
GENERAL PUBLIC
Please purchase your ticket for the preview matinee directly from Ballet Creole using the link below. Do not go through the Box Office. Please note that seat selection is not offered for this performance.
SCHOOL GROUPS
Ages: Recommended for Grade 7 and up
Price: $10/student (includes HST)
Curriculum Connections: inclusion of student creativity and critical thinking, student voice, mental health and well-being, as well as practices that explore social justice in the classroom.
HOW TO BOOK: CLICK HERE to go to BOOKING FORM
We thank the supporters who have made our 30+ Year Dance Season possible: